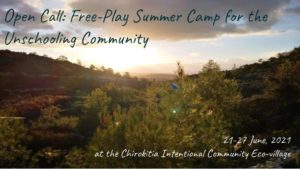 #collaborative_inquiry
#radical_accompaniment
#unlearning
#worldschooling
#outdoor_learning
#parents_cooperative
#forest_school
#children_of_all_ages
This is an open invitation to spend time together, find flow, and connect with like-minded/mindful children of all ages, recovering educators and alternative education researchers, unschooling or world-schooling adventurers, and practice-oriented dreamers of beautiful change, along with our families and friends. We wish to make time and open up possibilities for freedom and togetherness, for free-play, roaming, exploring, making green food, and taking care of ourselves, of each other, and of our environment.
Through this, we aim to create new relationships and strengthen our foundations in learning through art, share our experiences and approaches to cooperative, informal, outdoors, and mixed-age learning practices; and to learn from each other about being together in nature and beautiful rhythm.
Where: Our get-together will take place at the Chirokitia Intentional Community Eco-village, a place that can holistically accommodate our varying interests and needs. We wish to explore and celebrate the potential of the Chirokitia Eco-village as a site for cooperative learning and unschooling initiatives, and as an inspiring place for setting our intentions.
For more information on the Chirokitia initiative take a look at its website & facebook group.
For more information on the eimaste parents cooperative see eimaste.net, and facebook group.
When: Between Monday 21st – Sunday 27th of June
Preliminary Plan
Monday the 21st – Friday the 25th: Join us anytime for a loose daily rhythm, camping, on- and off-site visits, experiencing the place, and exploratory circles and spontaneous co-learning activities. We will be share spontaneously or on-demand:
parents circles
nearby excursions and hiking trails for all ages,
touch and massage for all ages (Justina),
woodworking,
Bring along:
Camping equipment if you wish to stay for one or more nights
Food and water (cooking facilities are provided)
Call Melissa at 99418073 for more information.
Donations will go towards building the eco-village's water-system.
26th Saturday and Sunday 27th: During the weekend, our time together will culminate into a celebration during the weekend, and our rhythm will expand to include more people and families.
To participate or make enquiries
Contact Chrystalleni Loizidou on 99586369, or Justyna Ataman on 96229369, and consider contributing a few words about your intentions in writing.
Email: nai@eimaste.net