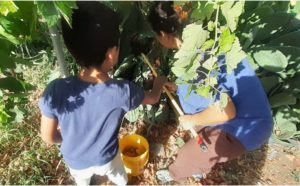 Some of us are focusing on opening up the work we've been doing together through an online Workshop, part of the international Deep Commons Conference, on Friday October 28th, 11am-1pm.
We will be streaming the workshop from Lefkara village and are organising parallel flow for our children to prepare carobs for making carob syrup, science experiments,
explore
the village and have a bruch picnic. Our aim, after years now of
working hard to set-up projects, schools and cooperative spaces, is to just settle and meet our and our children's everyday needs for clean air, green food and connection.
Here is the description:
Workshop:  Connective  practices  in  community-integrated arts, nature- and tradition-based learning and care, across the divisions of Cyprus
with Chrystalleni Loizidou, Hülya Dede, Sylvia Hadjigeorgiou and Konstantina Kasina 
The question is crucial of whether there can be lasting social effects in community art, in the work of socially-engaged art projects or projects of the third sector (charities, non-profits, social enterprises, cooperatives, etc). It often appears that such projects, running on the latest trend of academic keywords, exploit or burn out the momentum around potentially powerful ideas, remove spontaneity and social connection, and tie up the creators in institutional mazes of bureaucracy, "impact factor" reporting, and budget documents. Turning away from all this, this community of practitioners of education through art, environmental education, students of traditional craft, and scholars of memory and ritual –and our families– finds in the notion of "artistic connective practices" a powerful and necessary tool, as we look for ways to meaningfully come together across the physical and political divide of the Cyprus conflict. We resolve with new urgency to defy the forces of this division, forces now aggravated by the pandemic and new wars, and we focus on coming together in harvest. We gather to collect and process our island's three major crops: grapes, olives, and carobs, no longer thinking in terms of "projects" and instead choosing to work towards life. We wish to share customs and rituals of care, mindful presence, belonging and connection, through the meaningful work of ancient traditions. We come together and invite our friends, neighbors, and families to join us in harmonious community, letting go of notions of "facilitation," "coordination," and "documentation," and tapping into a natural flow in connection with nature and each other. Taking guidance from the seasonal productivity traditions of times past, we wish to focus on the occupational-therapeutic elements of the work at hand and share with each other our discoveries around its rituals, dances, songs, storytelling practices, and their means of generating social cohesion. We invite you and the Deep Commons Conference to witness and contribute to our work acrosss contemporary divisions and join us in harvest.