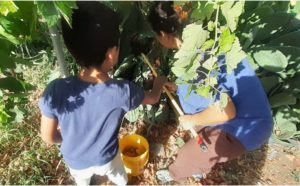 Some of us are focusing on opening up the work we've been doing together through an online Workshop, part of the international Deep Commons Conference, on Friday October 28th, 11am-1pm.
We will be streaming the workshop from Lefkara village and are organising parallel flow for our children to prepare carobs for making carob syrup, science experiments,
explore
the village and have a bruch picnic. Our aim, after years now of
working hard to set-up projects, schools and cooperative spaces, is to just settle and meet our and our children's everyday needs for clean air, green food and connection.
Here is the description:
Continue reading "Workshop: Connective practices in community-integrated arts, nature- and tradition-based learning and care, across the divisions of Cyprus" →